Main content area for page: Upcoming Shows & Clinics
Discover for yourself the revolutionary techniques that make Double Dan Horsemanship Clinics a once-in-a-lifetime experience! Double Dan Horsemanship introduces revolutionary horse training clinics that change relationships between horses and handlers. By using the Double Dan Horsemanship techniques you can have a stronger, more productive equine partner.
You'll receive first-hand knowledge on how to transform a stiff, heavy and unwilling horse into a soft, supple and cooperative partner. Under saddle exercises are not only geared toward improving horses, but building riders' confidence and increasing their sense of feel and timing. Boost confidence on the ground and in the saddle with easy to follow ground control methods. Give your horse a relaxed softness in halter, teach basic long reining, lateral flexion, side passing and introduce cues.
Throughout the clinic, Double Dan Horsemanship explains the philosophy behind their method that have made them two of the world's most sought-after clinicians. The depth of knowledge and watching real horses and riders progress through the Levels of the DDH techniques is sure to take your horsemanship to a whole new level!
Already registered for a clinic? Remember to fill in your Waivers before the day!
Host your own clinic
Double Dan Horsemanship are currently taking bookings for Shows and Clinics around the country. Double Dan Horsemanship - Dan James and Dan & Pia Steers are now internationally recognised as elite horse trainers and they travel the world sharing their training techniques and problem solving skills. Enquire now!
Coming Events
December 2023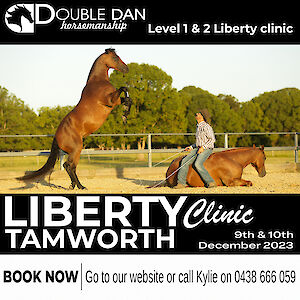 9 December 2023
Join Dan Steers from Double Dan Horsemanship as he conducts a 2 day Liberty Clinic (Level 1 & 2). Dan Steers and Dan James of Double Dan Horsemanship are well known for their inspiring liberty performances and now is your chance to learn their methods and develop your skills as a trainer under… ... more info about this event
Proudly sponsored by