Main content area for page: 2 Day Ground Control & Body Control Under Saddle Level 1
When:
1 August 2020 8:30 am - 2 August 2020 4:00 pm
Where:
364 Morrows Road
Nana Glen, NSW
AU
Ground Control & Body Control Under Saddle Level 1 Clinic
Join Dan Steers from Double Dan Horsemanship as he conducts a 2 day Horsemanship Clinic on the following:
Ground Control (Level 1)
Body Control Under Saddle (Level 1)
This clinic will be split into groups according to ability and focus. The program will be structured such that it can be modified to focus in groups what you are specifically interested in. This may include, but is not limited to ground control with a focus on body control under saddle. The first day will include a non-riding group suitable for horses which are not under saddle.
If there are particular problems you would like to address in the clinic, make Dan aware of them at the commencement of the day and he will be sure to go through them with you.
This 2 day clinic is based on Level One Ground Control & Body Control Under Saddle DVDs which are available for purchase thru our website shop - and will be available for sale at the clinic.
9am - 4pm each day. Fence sitters welcome.
To book please contact Sophie Babic on 0478 800 445 or email Enable JavaScript to view protected content.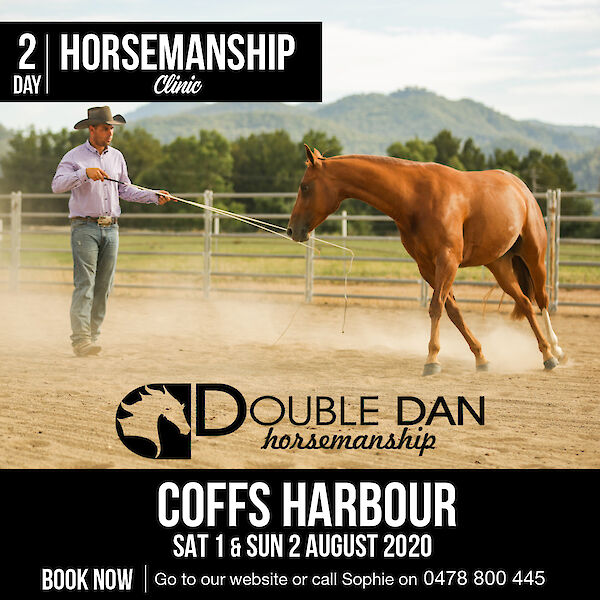 Tickets
All prices are in Australian dollars and include GST where applicable.
Participant @
$480.00
ea (
10 available
)
Fence Sitter for 2 days @
$100.00
ea (
9 available
)