Main content area for page: 3 Day Liberty Level 2 and 3
When:
5 July 2019 8:30 am - 7 July 2019 4:00 pm
Where:
168 Walmar Road
Kootingal, NSW
AU
Liberty Level 2 and 3 Clinic
Join Dan Steers from Double Dan Horsemanship as he conducts a 3 day Liberty Clinic (Level 2 & 3).
The liberty horse clinics are very unique clinic that can open many opportunities and take your relationship with your horse to a level that you never knew existed.
Whether you want to become a movie horse trainer, live show entertainer or maybe just have this unique understanding of how to teach your horse the art of liberty training this is the clinic for you. You must have been to a Liberty clinic prior to this clinic or have previous liberty experience.
During the clinic, you will learn about mark training and the basics of your horse working around you changing directions as you integrate the cues. We then look at the "stop" this plays a major roll into integrating the rear or lay down. As the clinic progress, we focus on the horses working in a much larger area and others horses to further develop the draw.
By the end of the clinic you will start to test you and your horses' foundation in various situations. You must have attended a level 1 liberty clinic or have previous liberty experience to attend.
9am - 4pm each day. Fence sitters welcome.
To book please contact Sophie on 0478 800 445 or email Enable JavaScript to view protected content.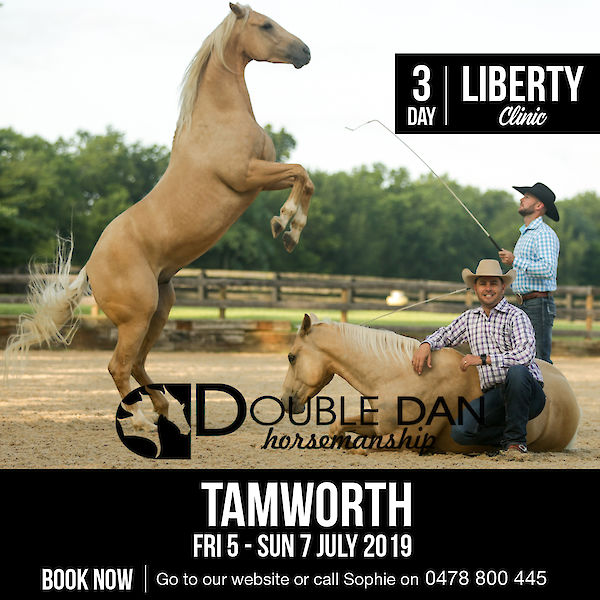 Tickets
All prices are in Australian dollars and include GST where applicable.
Fence Sitter @
$60.00
ea (
15 available
)