Main content area for page: 5 Day Horsemanship Camp
When:
27 September 2021 9:00 am
Where:
168 Walmar Road
Kootingal NSW
AU
Horsemanship Camp Clinic
Join Dan Steers from Double Dan Horsemanship for a unique 5-day horsemanship camp.
This innovative camp will cover all aspects of the Double Dan Horsemanship program including:
Ground Control (Level 1 & 2) focusing on Liberty
Long Reining
Body Control Under Saddle
Working Bison
This 5-day camp is a fantastic opportunity to spend not only working with your horse but also improving your horsemanship skills as well as meeting like minded people. This camp will take you through the fundamentals to achieve both softness and flexibility from on the ground to under saddle.
This camp will include tuition, camping and all meals, entertainment as well as horsemanship demonstrations from Dan Steers.
Don't miss your chance to learn new skills and have a fun sociable 5 days.
For bookings go to www.doubledanhorsemanship.com.au/events or call Kylie on 0438 666 059 or email Enable JavaScript to view protected content.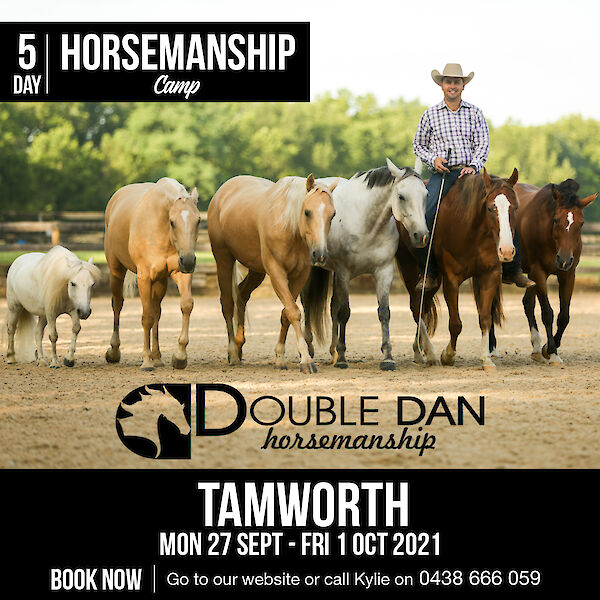 Tickets
All prices are in Australian dollars and include GST where applicable.
Participant @
$1250.00
ea (
0 available
)
Fence Sitting for 5 Days @
$250.00
ea (
20 available
)