Main content area for page: Kara Kar Trailers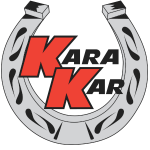 For over 53 years Kara Kar have built Australia's favourite and highest quality Australian made Horse Floats, Cattle Trailers and Goosenecks. We introduced the angle load float to Australia which uses precious space more efficiently. Our experience has resulted in our products being structurally superior; renowned for their towing ease, providing a safe and comfortable ride for your horse.
Every Kara Kar is built in our state of the art factory in Nambucca Heads NSW Australia, using superior quality materials, fixtures and fittings and backed by a 5 year structural warranty. Kara Kar have Agents Australia Wide to provide the highest customer service with a range of trailers to see.
Double Dan Horsemanship Australia finds the Kara Kar float the most reliable, safe and comfortable float for not only our horses but also us!
Proudly sponsored by