Main content area for page: Sign Ur Neigh'm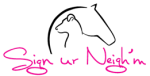 Sign ur Neigh m is an Australian business, and everything we make and sell is Australian made!!
Starting in May 2016 and specialising in custom made and made to order everything. This small country town cottage business keeps everything personal for their new and repeat clients.
Owner, Cassandra Grainger was originally a Financial Controller in a multi-million dollar business in the Goulburn Valley. After years of impossible deadlines and stress she retired to be a home based registered BAS agent and bookkeeper. Who would have thought she would have been adding being a sewer in her own cottage business to her repertoire, but it happened and there is no taking it back!!
Cassandra sews everything from raw matericals in her purpose-built home workshop, she oversees the entire process right up to dropping goods to post office for delivery. This guarantees a superior level of prodect and service.
She measures, cuts and carefully sews everything from scratch, with rolls and rolls and rolls of fabric! Australian made webbings and bindings and all the hardware is sourced from an Australian distributor who is also located in a small country town. She does not simply buy cheap imports and stick names on them to resell!
All seamed rugs are overlocked. - Cassandra is yet to find any other rug manufacturer who does this.
Monogrammed everything!
Dog Collars and leads.
Webbing horse halters.
One eared webbing work bridles.
Monogrammed show rug sets.
Cassandra shows locally and Nationally and knows exactly what competitors need and use.
Once you have used Sign ur Neigh'm's high quality, well made and well-fitting products you will never buy CHEAP again!
Made By: Cassandra Grainger - 0415 111 104 or email Enable JavaScript to view protected content.
www.horsehalters.com.au
Proudly sponsored by