Main content area for page: TPM Saddles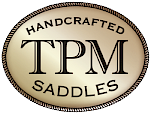 Tim McLachlan has been associated with horses and saddlery all his life. From a boy growing up on the family farm to a young man lending a hand at his Grandfather's saddlery, Tim has now been a qualified saddler for over 30 years. He and his wife Maree established TPM Saddles in 2010. Tim is an avid Campdraft and Challenge competitor and rides in nothing but TPM Saddles.
When it comes to TPM Saddles our philosophy is simple……."Made by Campdrafters for Campdrafters".
There is no factory production line in our workshop which means when you purchase a TPM you know that the person selling you the saddle is the same person who will make it.
The success of TPM Saddles has been achieved by:
Quality – won't be compromised
Reliability – product always delivered on time
Value – best 'value for money' saddles on the market
If you have any questions or enquiries please feel free to contact us on the following details provided below or alternatively you can complete our online enquiry form and we will get back to you as soon as possible.
Don't forget to mention that you have seen "DOUBLE DAN HORSEMANSHIP" for your chance to get free shipping!!
TPM Saddles
Address: 1569 Middle Road Peak Crossing QLD 4306
Phone:
Mobile: 0422 326 283
Email: Enable JavaScript to view protected content.
Proudly sponsored by